About Us
Esteem Clinic have been leaders in the aesthetic industry for over two decades.
Discover what sets us apart.
Maria Gambaro's vision from an early age was always clear, to create the number one Medi Spa in Australia. So, in 2004 when she joined forces with Dr Terrence Scamp, Maria's life ambition became a reality with the creation of Esteem Medi Spa. The Esteem brand was a new concept in the marketplace, with a vision to create a haven of unparalleled professionalism and a reliance on the most advanced and proven techniques to address the aesthetic concerns of women and men.
By 2020, the Esteem Group had begun to focus heavily on advanced aesthetic techniques and treatments, and the decision was made to rebrand the business, launching Esteem Clinic across five locations in South-East Queensland.
Esteem has been awarded Best Aesthetic Practice Queensland for three consecutive years, by the prestigious "My Face My Body Awards". In 2018, Esteem was extremely proud to have been recognised as the Best Aesthetic Practice in Australia. Esteem was also honoured to have been entered into the "My Face My Body" Hall of Fame in 2018. These prestigious industry awards are testiment to the group's ongoing commitment to delivering advanced aesthetic techniques and the latest in anti-ageing technology.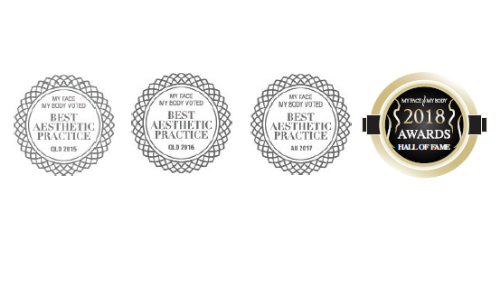 Where Science Meets Beauty
Esteem Clinic is committed to offering clients the most advanced and proven techniques, and industry leading technology, to address the aesthetic concerns of women and men.
Our mission is to have you feel a greater sense of beauty, confidence and happiness, having experienced the very best in industry-leading advanced aesthetic techniques, premium anti-ageing treatments and technology, and medical grade products, in a warm and caring environment, with the best customer service experience possible. This is the Esteem difference.