Spider Vein Treatment Esteem Clinic is proud to offer its clients, the Nd-YAG Laser Treatment, a specialised vascular laser used to treat the deeper tissues and longer vascular structures that other lasers fail to reach.
Not only can the Nd-YAG Laser treat spider veins and broken capillaries on the legs, body and face, it is also a very effective treatment for rosacea, facial telangiectasia, stretch marks, poikiloderma, general pigmentation, small angiomas (red/purple lesions) and Neovascularization (the area surrounding scars).
At Esteem Clinic, we can tailor a laser vein treaetment program to your needs and your individual aesthetic goals. Our team of highly qualified, experienced laser technicians are experts in their field. Before any treatment, you will have a complimentary consultation to discuss your concerns, treatment suitability and aesthetic goals. We will also conduct a patch test (required) before treatment can commence.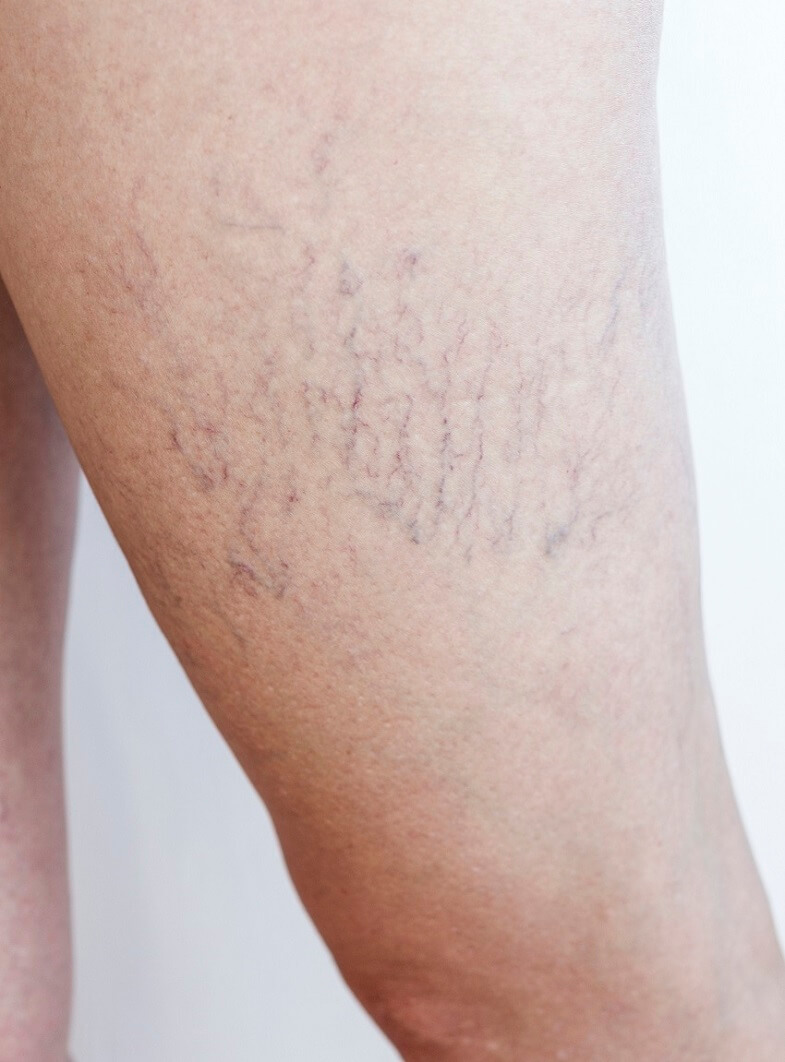 How it works
The light energy emitted by a the Nd-YAG laser is selectively absorbed by the oxyhemoglobin in your blood. The technology safely heats the blood vessels, until they break down and shrink. You may briefly feel a warm sensation as the unwanted vessels absorb the laser pulses. As a result, a reduction of the vascular lesion is achieved. 
Areas treated
Nd-YAG Laser treatment can safely be used on the face, neck, chest, legs and other areas of the body.
What to expect
Nd-YAG Laser treatment is virtually painless and requires no downtime.
Depending on the treatment area, vascular treatment typically takes a few minutes to half an hour.
Results
Reducing and removing the appearance of spider veins, pigmentation and lesions can restore skin to its natural tone.
Results range from immediate to gradual, depending on the treatment area and/or condition being treated and last up to three months. Regular treatments will help to maintain results.  
Who is not suitable?
The following people are not suitable for laser vein treatment. Anyone who:
Has sunburn on the treatment area
Has had anti-wrinkle injections within the past 24 hours and filler injections within the past 2 days
Has a tattoo on the treatment area
Is pregnant 
Is diabetic
Has vitiligo
Has suspicious lesions or known skin cancer in the treatment area 
Has metal implants in treatment area with thin skin (i.e.  jaw, orbit) 
Has wounds or significant irritation/rashes in the treatment area
Your Esteem Clinic therapist will confirm your suitability during the consultation process.
Post Treatment Care
AFTER TREATMENT
– Avoid sun exposure and use a broad spectrum (UVA/UVB) sunscreen to prevent further sun damage.
– Bruising, redness and swelling are common and resolve with time.
– A "bug bite look" is common and usually resolves in 1-2 days.
– Avoid heat – hot tubs, saunas, etc. for 1-2 days.
– Avoid skin irritants (examples below) a few days post treatment.
– Products containing Tretinoin, Retinol, Benzoyl peroxide, glycolic/salicylic acids and astringents etc.
– Leg vein treatments only:
– Compression stockings (20-30 mm/hg) are optional.
– Avoid high impact activity 3-5 days.
– Hemosiderin staining (brown staining) may occur after a treatment and usually resolves with time (can take 1-2 years) but, on a rare occasion, it may be permanent.
– Strict avoidance of sun exposure may decrease risk of permanent hemosiderin staining.
– Large leg veins may take many months to resolve and should not be re-treated before then.
If you have any questions or concerns, please call Esteem Clinic on 1300 693 783
Esteem has been awarded Best Aesthetic Practice Queensland for three consecutive years, by the prestigious "My Face My Body Awards". In 2018, Esteem was extremely proud to have been recognised as the Best Aesthetic Practice in Australia. Esteem was also honoured to have been entered into the "My Face My Body" Hall of Fame in 2018. These prestigious industry awards are testiment to the group's ongoing commitment to delivering advanced aesthetic techniques and the latest in anti-ageing technology.