Gua Sha The Gua Sha is the new 'It' skincare tool.
Like facial rolling, Gua Sha strokes include applying pressure to skin and tissue to aid circulation within. But, the Gua Sha stroke not only applies pressure, it also produces a light stretch of the skin and tissue at the same time.
Done correctly, this results in a more noticeable myo-fascial release.
Put simply, Gua Sha relaxes tissue tension and thus, invigorates circulation in a far superior way to facial rolling.
What are the benefits?
Increases blood flow for added glow
Natural Face Lift results – Tone and Define Facial Muscles
Relieves Muscle Tension
Reduce Puffiness & Dark Circles
Aid in Product Absorption
Enhances the effectiveness of skincare
Boost Circulation
Encourage Lymphatic Drainage
Relieve headaches & eye strain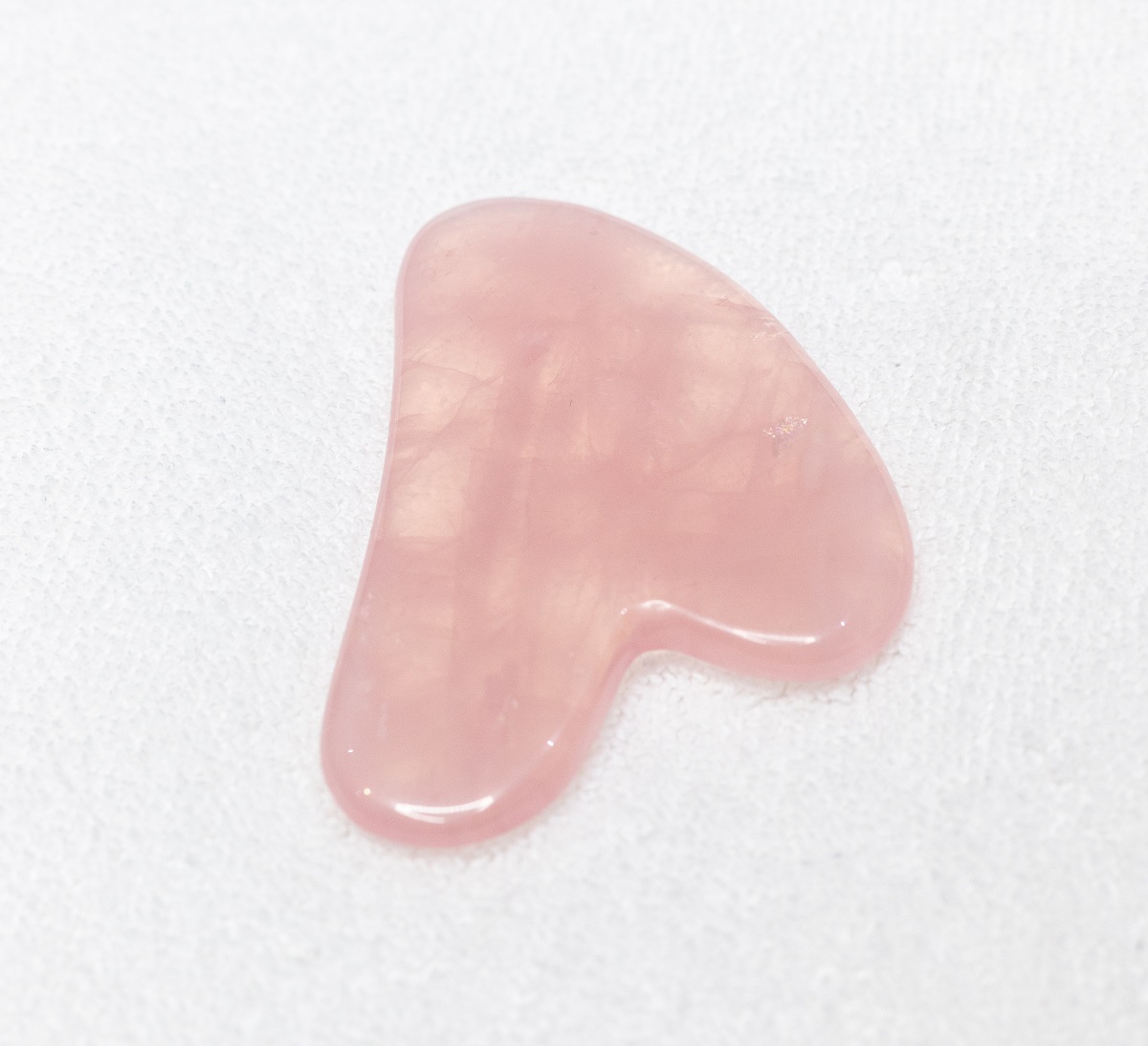 What is Rose Quartz?
Rose Quartz is commonly referred to as the "Love Stone"
It is known for helping promote self-love and opening the heart to friendship, inner healing and harmony. 
Egyptians believed rose quartz had anti-aging properties. 
Rose quartz is packed full of minerals, including silicium, magnesium, iron, sodium and oxygen.
It has an ability to reduce inflammation and support the renewal of skin cells plus heal and rejuvenate.
Rose quartz is also good for the heart and circulation, bringing oxygen to skin which improves tone, luster and glow.
It is said to be a healing stone.
Rose quartz is believed to:
remove emotional stress,
purify energy,
open the heart, as well as
comfort and soothe.
What is Gua Sha?
Gua Sha is a formal Chinese Medicine technique.
It is a healing technique that has been used for centuries in Traditional Chinese Medicine, dating back to the Ming Dynasty of the 1300's.
It involves scraping the skin with a crstal or stone massage tool to improve your circulation.
In Gua Sha, a technician scrapes your skin with short or long strokes to stimulate microcirculation of the soft tissue, which increases blood flow.
Gua Sha is intended to address stagnant energy, called "chi", in the body that practitioners believe may be responsible for inflammation.
Rubbing the skin's surface is thought to help break up this energy, reduce inflammation and promote healing.
The facial version of Gua Sha has been adapted from the body treatment, which intentionally produces red marks called therapeutic petechial.
For facial work, the Gua Sha strokes are practiced much more slowly and gently, resulting in more comfort and relaxation with the noticeable absence of red marks.
Benefits
IMPROVES TOTAL CIRCULATION:
Facial Gua Sha helps improve lymph circulation (and thus drainage), but it also improves the quality of blood circulation and energy ("qi") circulation. This is an important distinction.
PRODUCT PENETRATION:
Gua Sha can be performed with your moisturising routine (you need at least a hydrating mist and facial oil), and it's also a very effective way to help products penetrate more deeply.
RELEASE & RELAX TENSION:
Done correctly, Facial Gua Sha is a very effective tool for relaxing tension in the face and neck. Not only does it feel amazing, it softens tension from "poor face posture" (brought on by active facial muscles constantly forming a "worried" or "strained" face).
We use Gua Sha to bring back a "relaxed" face, which in turn looks refreshed and more youthful – this is not unlike the intent of Botox.
SCULPT, CONTOUR & SHAPE:
Facial Gua Sha uses a stroke that creates pressure and stretch at the same time, which makes it more effective than a facial roller for sculpting facial features like the cheekbones and jawline.
BUILT FOR YOUR CURVES:
We can use the different shapes and edges of a Gua Sha tool to sculpt and contour through contact with the different curves of your face, neck and body.
Some edges are best for bones (jaw, cheek and brow) whiles others are better for fleshy of highly muscular areas.
IT FEELS AMAZING:
Facial Gua Sha takes relaxing tissue tension and invigorating circulation to another level.
Users report they experience relief from headaches and sinus congestion.
EASY TO CLEAN:
Being a simple stone board, it's easy to clean with soap and warm water.
When not to use?
Do not use the facial roller for 4 weeks after having anti-wrinkle or dermal filler.
How To Use
Everyday!

Anyone of any age 

can benefit from adding this unique skincare tool to their daily routine.
After applying facial oils or serums, use light pressure to massage the Gua Sha across your face and neck for at least one minute, or ideally, 3-5 minutes.
Jawline: Gently sweep from the chin along the jawline in an upward motion towards the ears
Neck: Gently press at the base of the neck, above collar bone, and move in an upwards motion towards the jaw.
Cheeks: Gently press from the centre of the face and work outwards towards the ears, being careful and extremely gentle near the eye area
Brows: Sweep Gua Sha gently across the brow line, starting from the centre and working outwards
Forehead: Gently sweep in an upwards motion towards hairline.
Esteem has been awarded Best Aesthetic Practice Queensland for three consecutive years, by the prestigious "My Face My Body Awards". In 2018, Esteem was extremely proud to have been recognised as the Best Aesthetic Practice in Australia. Esteem was also honoured to have been entered into the "My Face My Body" Hall of Fame in 2018. These prestigious industry awards are testiment to the group's ongoing commitment to delivering advanced aesthetic techniques and the latest in anti-ageing technology.